UI Button
| | |
| --- | --- |
| color | blue |
| size | large |
| icon | text |
| title | Français |
| url | https://wiki.umontreal.ca/display/LTA/Atelier+d%27usinage |
The machine shop is very well equipped for small to quite large prototypes or custom builds. It has conventional and CNC tools, sheet metal tools, welding tools, 3D printers and more. Here is a list of our machines and the maximum sizes they can accept:
CNC milling

HAAS VF-3

4-axis
40" X x 20" Y x 25" Z

CNC lathe
Milling

First LC-205VHDX

33" X x 17" Y x 17"
Vertical and horizontal spindles

Maximart MX-B5S

Lathe

Cyclematic CTL-618EVS
Microweily TY-1640-S
Microweily TY-1860-TS
SDG Type 22

Drill press
Bandsaw

Do-All C-916
Do-All DBW-1A

Grinders

Prosser carbide grinder AA
Neiko grinder buffer 6"
Hisey Wolf Orka-4
Baldor 34-4258-1587 belt/disk sander
Welder

TIG 

MIG

Lincoln Electric Power MIG255

Stick

Plasma
Spot welder

Up to 24" away from sides

Weld passivation
Oven

Pyradia F300 H

Pyradia 200HPBI

Sand blaster
Hydraulic press
Punch
Small Woodshop
Waterjet

Wazer

12" x 18"
SS 3/16", Aluminum ½", HDPE 5/8", carbon fiber ¼", rubber ¾", foam 1", glass ¾", ...

Laser engraver/cutter

BossLaser HP-3655

150W CO2 laser
36" x 55" with 4 side feedthrough
Metal up to gauge 18
Plastics up to ½"
Foam, fiber glass, rubber, wood, ...

3D printers

Formlab 3BL - Wash L - Cure L

SLA 
13" x 8" x 12"
Proprietary resins

Creatbot PEEK-300

FFF, dual head
12" x 12" x 16"

PLA, ABS, PC, Nylon, PETG, Carbon Fiber, PEI, PEEK, ...

Sheer

Durma RGM2504
100" W x 5/32" T

Break
Roller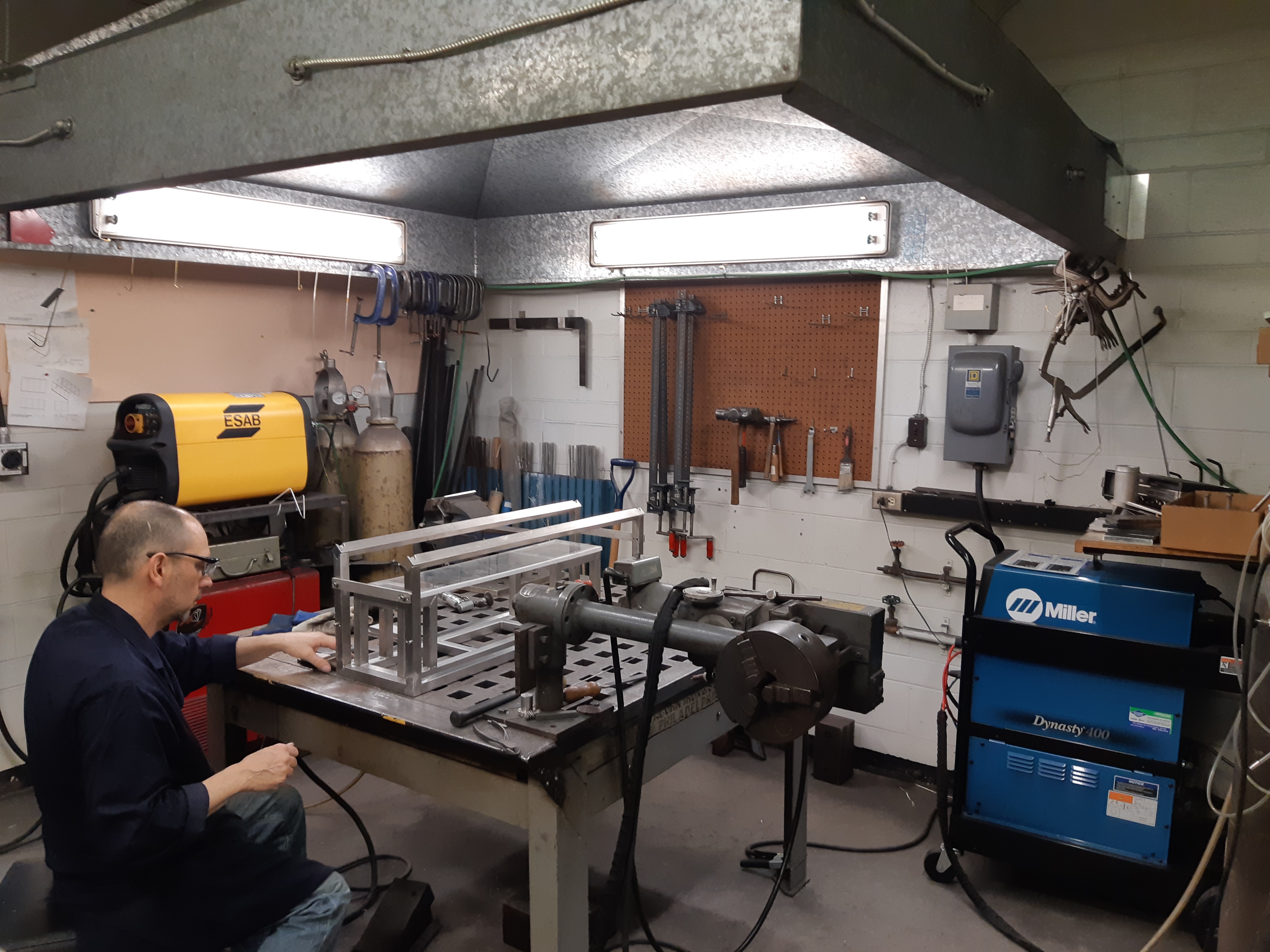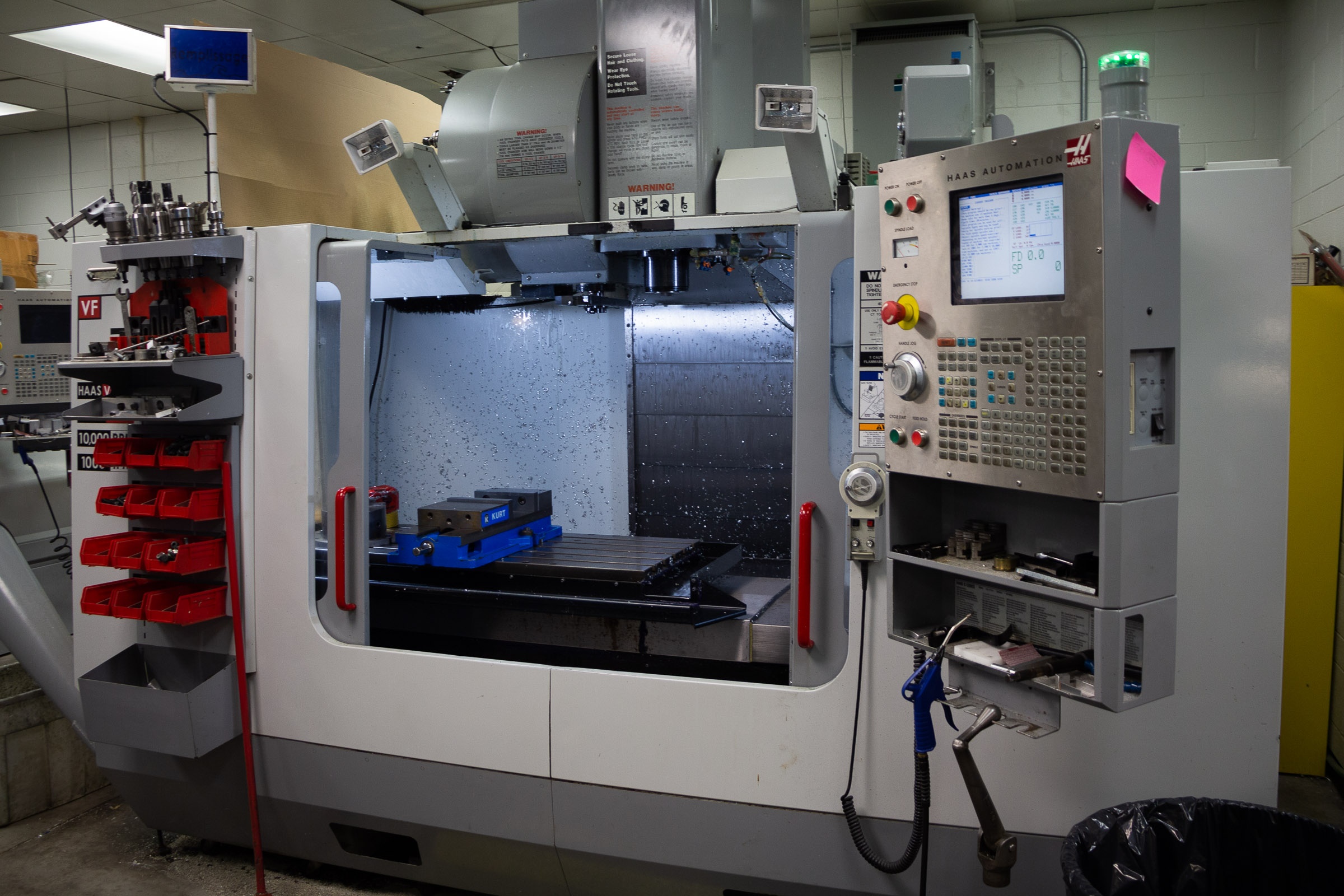 Examples of current/past projects
---
ATLAS ITk Tracker Upgrade: The machine shop has supported the Carleton group in the R&D, prototyping, production and testing of the ITk thin silicon microstrip sensors. The machine shop has built the "cold chuck" that can hold the sensor in place using vacuum and provide all the electrical and signal interfaces to bias the sensor and readout the associated leakage current. The TK-jig design and fabrication quality made it the standard test stand used by the entire ITk strip project with TK-jig prototypes fabricated by the Resource shipped to six collaborating ITk labs in Europe and North America.
Barium tagging for neutrinoless-double-beta-decays: The Ba ion tagging R&D program in Canada aims at developing an efficient experimental method for extracting, transporting and detecting single ions from a liquid xenon (LXe) TPC such as nEXO.The UdeM shop has constructed several apparatus for that research program, such as parts of the multi-reflection time-of-flight mass spectrometer, quadrupole mass filter and a linear Paul trap for laser fluorescence spectroscopy.
Hyper-K neutrino experiment: Hyper-K is a next generation neutrino oscillation experiment aiming at measuring CP violation in the neutrino sector. The UdeM machine shop has played an important role in assisting the development of various mPMT prototypes for Hyper-K, such as manufacturing stainless steel back plates with fine machined features. 
nEXO experiment at SNOLAB: The UdeM machine shop has assisted the EXO/nEXO Canadians collaborators. Recent projects include the manufacturing of an installation jig for the source guide tube of the calibration system, as well as complex source storage cassettes that each include a sprocket for source deployment in EXO-200. Also, inline xenon-radon traps were built by the Resource for the R&D of the radon removal system.
PICO dark matter experiment: The UdeM machine shop has built several part of the various generations of PICO experiments. One notable example is a key custom pressure feedthrough for PICO-40L that had been commercially purchased

 but failed due to the manufacturer's inability to conform to the tolerances of the complex component. The UdeM machine shop was able to produce a replacement component in short order, saving months of delay. 

SBC dark matter experiment: The UdeM shop is building part of that future dark matter experiments. It fabricated custom plumbing for the very complicated gas system. The machine shop will build the detectors' position sensors, SiPM support structure, LED rings and the welding of the central bellows assembly, a task that no other university shop in Canada was able to complete for the SBC collaboration.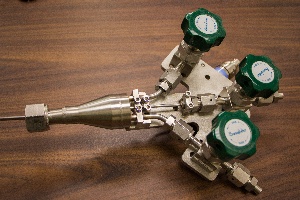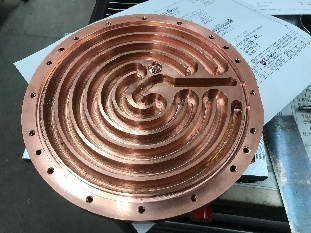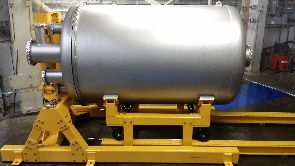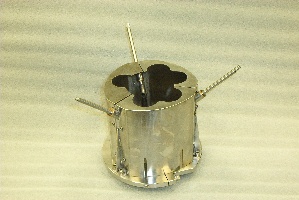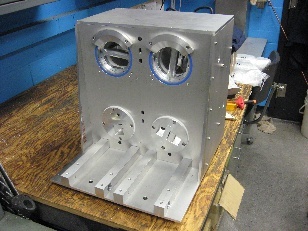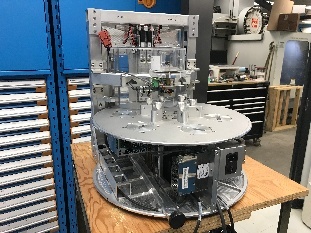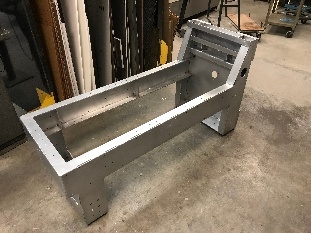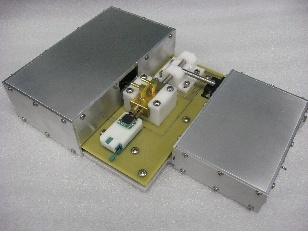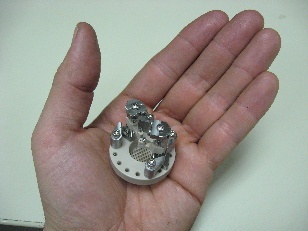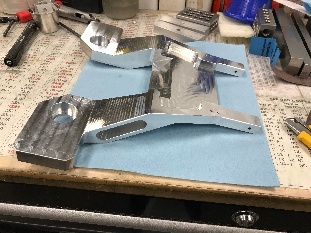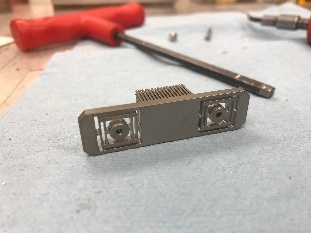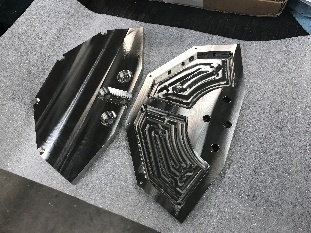 To understand how charges applies, please look at the table below. It will depend on the client's affiliation and what type of work is required. Material can be provided by the client or by the shop. Taxes applies on everything but time. Shop fee includes tool wear, cutting oils, ... Consumable consist of broken tools, tools that we don't have, ...
Client
Material
Machining/Design time
Shop fee*
Consumable
UdeM Physics
Market price
Free
20$/h
Market price
LAT MRS co-applicants
Market price
Free
20$/h
Market price

UdeM Neuroscience

Market price
Free
20$/h
Market price

UdeM,

PolyMtl
Market price
85$/h
20$/h
Market price
Academic
Market price
110$/h
20$/h
Market price
Industry
Market price
150$/h
20$/h
Market price
*Shop fee can be a maximum of 20$/h, but often can be less depending on the job.
The shop is located in the Laboratoire René J.-A. Lévesque on the main campus of Université de Montréal. The address is
2905 chemin des Services
Laboratoire René J.-A. Lévesque, local 157
Montréal, Qc
H3T 1J4
You can join our team by phone 514-343-6111 #6221 or by e-mail at atelierlta@phys.umontreal.ca